GN 1500GPM Dredging Slurry Separation System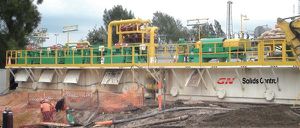 GN Solids Control could provide the recycling system for several industries like the oil gas drilling, horizontal directional drilling and some other industrial application projects like the dredging slurry separation. The dredging slurry separation system is a kind of recycling system which is used to remove the trash in the river or lake. This is always a job for environmental protection which is paid much attention by the environmental department and the urban construction.
The complete process for the dredging slurry separation is consisting of 3 parts; the first one is the dredging boat and first stage separation pool for large size of the trash. The dredging boat is always moving on the surface of the lake or river, and the suction unit would go down deep to the bottom of the lake or river and then suck sludge then transfer to the ground by a hose which is always float on the water surface. On the ground, there will be a pool which is divided into several parts by different mesh size of wire screen. The sludge flow coming out from the hose will get into the pool; the large size of the trash in the sludge would be blocked by these several wire screens, while the slurry will flow away for next process.
The second part of the dredging slurry separation is the recycling system which is including several equipment that is used especially for the solids and liquid separation. The slurry will be fed into a scalping shaker, here the solids which is large than 1/8 inch would be separated out, and the slurry would then be pump transferred to the desander for much fine solids removing. After treated by the desander, almost all the solids with size of 50 microns would be removed out.
The third part of the dredging slurry separation system is the ultra-fine solids removing equipment. Some contractors like to use the filter press as the final solids removing units, the solids separated are really dry and shaped like cake. While another option is to use the decanter centrifuge that could be used to remove the ultra-fine solids with size down to 2 microns. After treated by the filter press or the centrifuge, the water is already clean that could be flow back to the lake or river.
For more information of GN's dredging slurry separation system, please contact with us.
Related Arciels: